You guys remember our little kitchen, correct?
Yesterday, our little kitchen began to take on a new form– a utility room.  With the addition nearing (we hope), we are re-plumbing the current home to fix the plumbing issues mentioned in this post, meet city codes, and have a "fresh start" for the addition.
We are adding a larger hot water heater and plan to have it in the utility room (i.e. in the corner you're seeing in these photos).
We first moved the stove and removed the upper cabinets, so the room looked like this: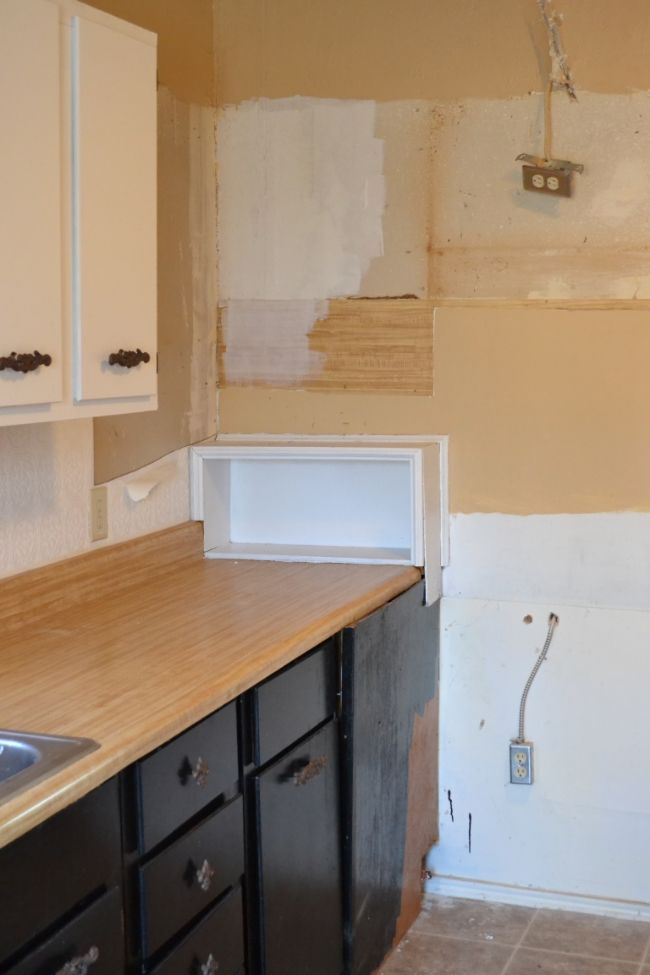 We planned to (1) remove the dummy panel, (2) cut the counter top to size, and (3) repair/paint the walls.  The plan was easy.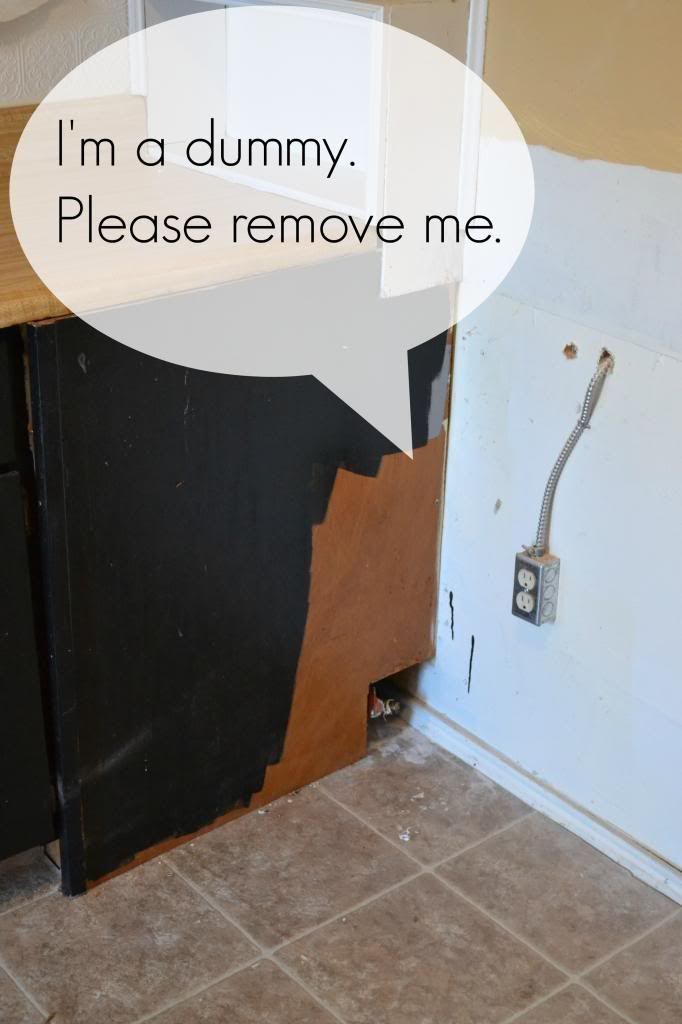 I crack myself up.  Moving on.
When we removed the panel, this is what we found: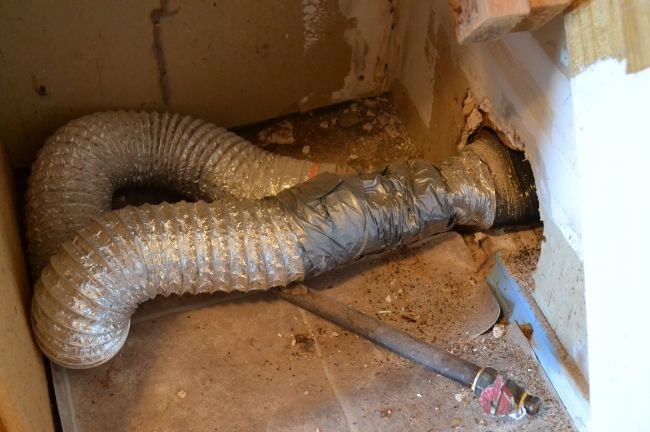 Lovely.  We knew the gas line was there (hence the gas water heater that is going in), but had no idea the dryer hose (and subsequent holes through the wall and floor) was there.
So, out went the old :


Notice the Moroccan tile-look vinyl floor, which is back in style so many years later.
When we removed the dryer hose, a big, breezy hole was left in our wall.  We used foam insulation to fill the hole.  We also reinforced the drywall (which was flapping in the breeze) with drywall screws and plopped in some nice, new plywood to level the floor.  The condition of the walls makes me want to be sick– especially thinking about how close it has been to my food for well over a year. Ewwwwwwwwwwwwwww.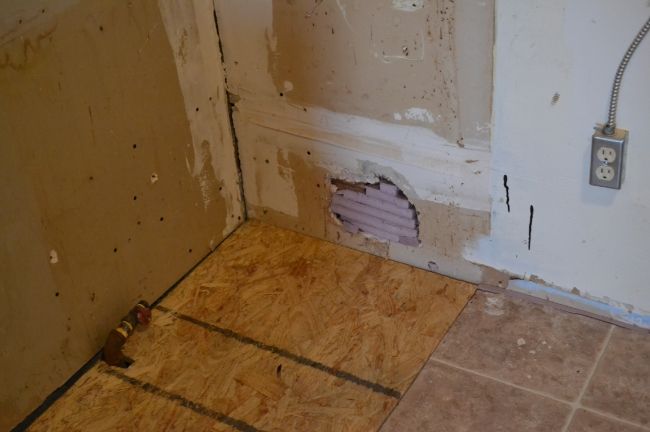 We then made the decision to cover up the bad mouse droppings sheet-rock with nice, clean, bead-board paneling.  It was freezing outside, as we just had Icepocalypse Part II, so we moved the party inside.
[See my crock pot?  Love that thing.  We eat like kings when we're projecting because dinner cooks itself.  Last night was rib night— ohmygosh.]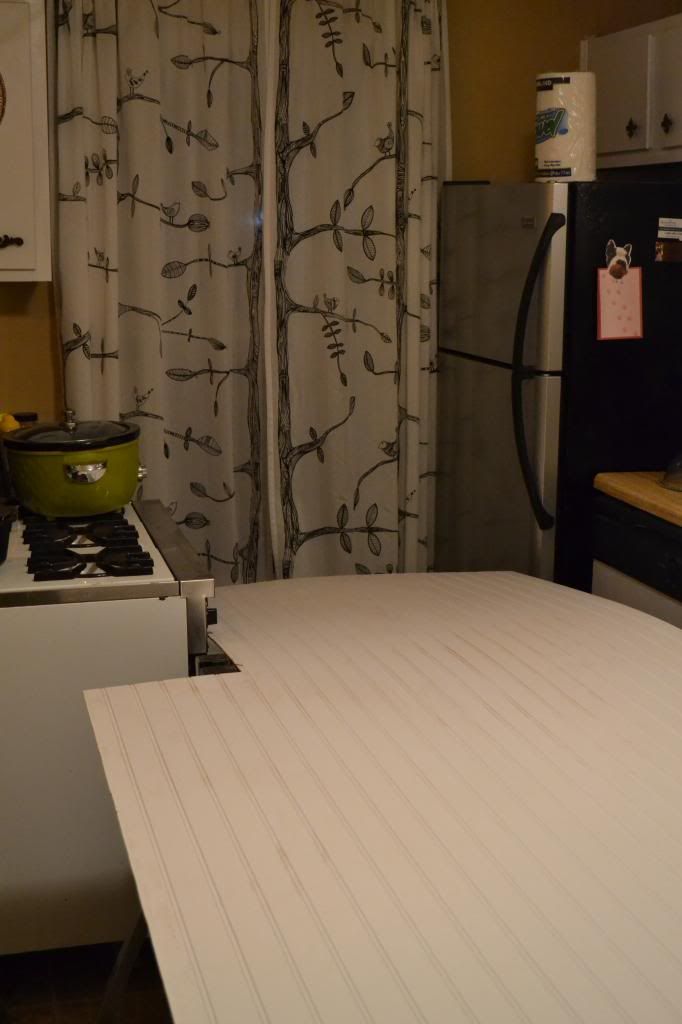 We cut paneling for two partial walls and called it a night around 11:00. Mercy. Also, we used this awesome lipstick trick for cutting the paneling hole for the plug. Highly recommended time saver (and highly recommended blogger– one of my favorites!).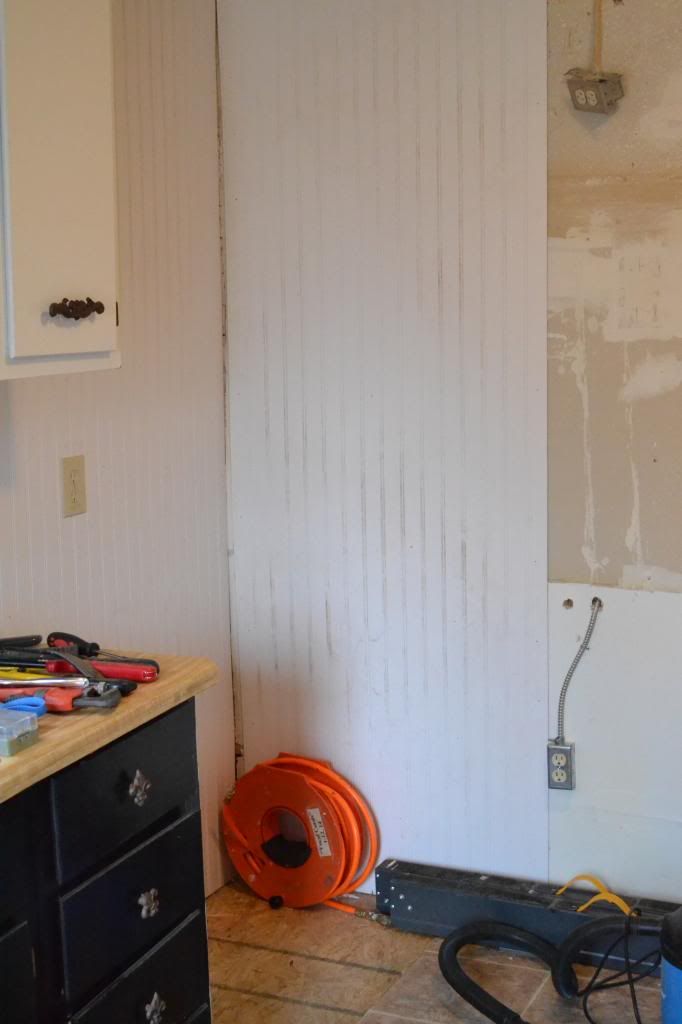 This morning, we laid the new linoleum floor tiles.  We chose TrafficMASTER Premium Copper Slate flooring from HD.  So far, we're super diggin' it, not to mention that this brand has fantastic reviews on-line.  It was extremely easy to install (score with utility knife and snap!) and looks quite a bit like slate for a very low cost and no grout cracking on our constantly shifting foundation! [I'm not getting paid to say any of this– I just like the product so far!]
We then, simply, used 1×6 boards as the baseboards and bought lattice board for the corners.  We caulked with plain white caulk.  We're happy with how it all came out– especially to house a water heater!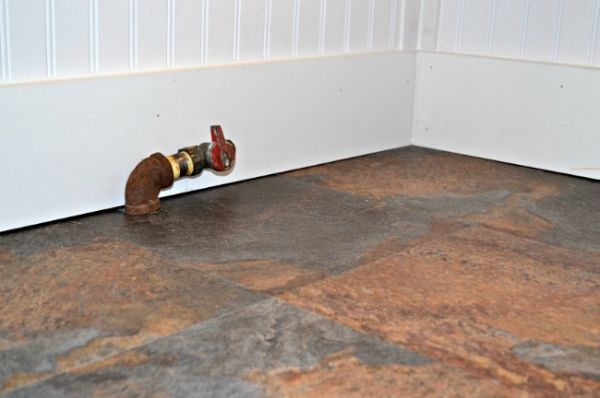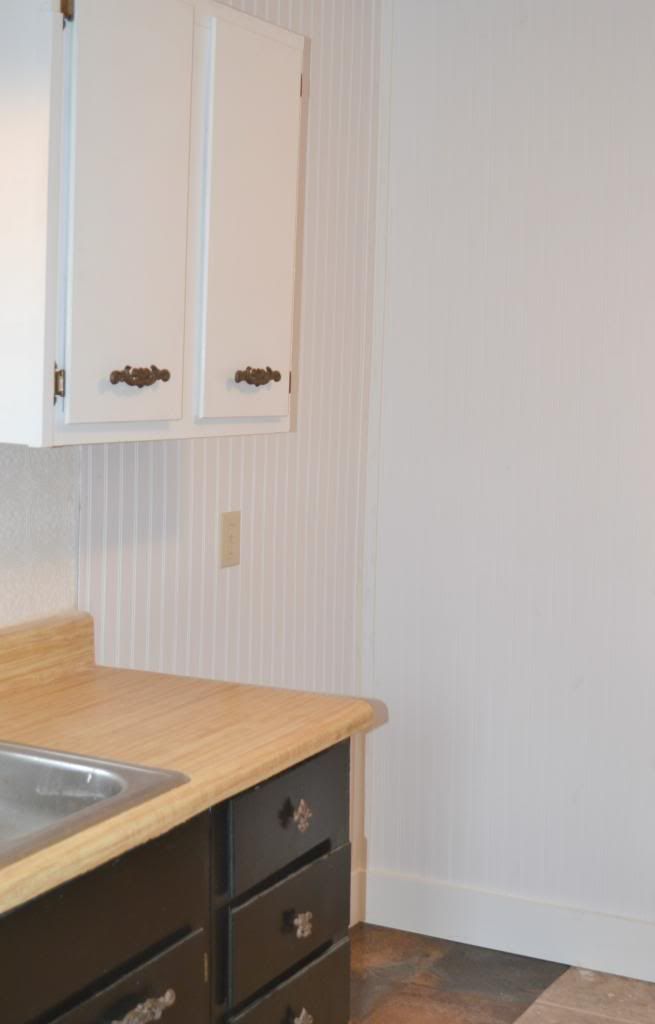 We're so glad to have a clean space to share with you guys!
The re-plumbing starts tomorrow!  We'll catch you up to our progress later this week!  Hope you "Sprang Forward" last night and enjoy the rest of your weekend!